Two Mumbai women will teach you how to save the world, and your money, at a green seminar on April 9.
Like many other municipal schools in Mumbai, the JS Municipal School in Tardeo houses both, a school and a few offices given on rent. While the other offices look abject with their old, worn-out tables and rickety chairs, Centre For Environmental Research And Education's (CERE) office is bright and cheery.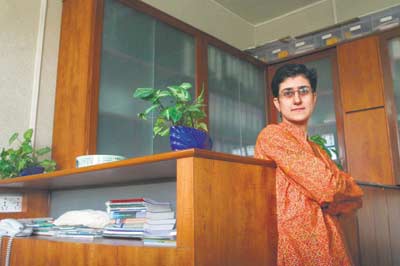 There are large wooden bookshelves and tables, a marble floor, and walls that look bright and expensive. Strange, it might appear for an NGO that speaks of ecological conservation. That is until Rashneh Pardiwala, director of CERE, points out that the floor is made of discarded marble tiles, a huge wooden cupboard that was being given away has been chopped and overturned to become a bookshelf and the wall has been made of marble dust. Lift the pictures put up on the wall, and the soft board sports a big hole. (It was a discarded school notice board).
In the eight years that it has existed, CERE has advocated and helped several large corporations to adopt green practices (Their mantra being map and cap, as against the more common approach of map and trade). And now, it is conducting a seminar to target what it calls the necessary foot soldier of the green movement — the employee.
CERE has already had major success with IndusInd Bank. After embarking on a 'green office' project in 2009, where they adopted practices like paperless faxes, waste management and even a solar ATM (50 solar ATMS have been set up, and another 50 will be set up by the end of April, 2011), it computed cost savings of up to Rs 42 lakhs per year.
But it was a discussion with an employee that set off the idea for the need of such a seminar. Pardiwala says, "While we were speaking with the employees, one person said that a large conference room had three switches controlling a number of bulbs. You switched one on, and a number of bulbs would light up. When we arrived the next day, we noticed that the employees had removed every alternate bulb, on their own."
Kitayan Rustom, co-founder of CERE, stresses the need to have employees on board, when companies adopt green practices. "Many companies don't think that making employee awareness is necessary." For instance, she realised that some employees did not like using recycled tissue paper. "They came up and said they were willing to consume less paper, but they would not use the 'dirty-looking' toilet paper. We had to explain that it was totally clean."
Pardiwala says, "From what we have seen, employees in offices are willing to cooperate. They just need to be made aware of how big their carbon footprint is and what solutions are on offer." The conference will bring together green product providers as well as success stories.
Among them is P Parthasarathy, Managing Director of E-Parisaraa, Bengaluru, who once used to buy ewaste so as to extract precious metals. Today, he has established E-Parisaraa that handles, recycles and reuses ewaste in an environmentally friendly way. There is the firm Daman Ganga in Vapi that recycles practically any sort of packaging waste, producing a range of products, from paper and insulation boards to roof sheets and acoustic boards.
At: 9 am, April 9, Carbon Map & Cap Conference, Vivanta by Taj-President, Cuffe Parade
To register: visit www.carbonmapandcap.org
Entry: Rs 4,000 per delegate
A green seminar for the office-goer